Source: www.tribejournal.com
Saxophonist Dave Koz's sister has turned their mom's cookies into a business that gives back.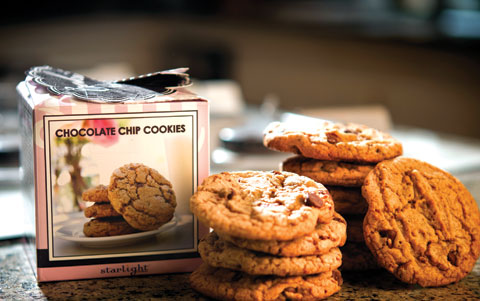 Audrey Koz was a pharmacist, but her best medicine was the love she baked into her chocolate chip cookies.

"The cookies pack my mom's magic in every bite," said her daughter, Roberta Koz Wilson.

They were so good, Audrey Koz credited her cookies for launching the musical career of her son, Grammy Award-nominated saxophonist Dave Koz. When he started out in the jazz world, she sent cookies with him to every meeting and performance, and Capitol Records even took her — and her goodies — to meet record executives.

"We would send my mom in with batches of cookies to grease the way," Dave Koz said.

When Audrey Koz died suddenly in 2005, Wilson decided that she needed a way to impact people like her mother did. She already had left her role as longtime vice president for affiliate sales and marketing at MTV Networks in search of a new challenge.

After tinkering with other small-business ideas, Wilson started baking her mother's cookies for her daughter's elementary school holiday boutique. Her success there gave her an idea, and with no previous experience in baking or starting a business — aside from her background in sales and marketing — Wilson launched Cookies for a Koz in 2008.

"I had no idea what I was doing," she said. "I learned everything I could."

Wilson created a Web site and moved into a West Valley commercial kitchen as demand increased. When clients asked for different flavors, she introduced oatmeal raisin, white chocolate raspberry, snickerdoodle and red velvet. Seasonal specialties developed, too, such as pumpkin chocolate chip for Thanksgiving and apple pie cookies for Mother's Day.

"I try very hard not to eat too many cookies while I'm baking them," said Wilson, a Calabasas resident whose favorite cookie is shortbread.

To honor her mother, Wilson donates 10 percent of retail purchases to Starlight Children's Foundation, Audrey Koz's favorite charity. The organization, for which Dave Koz is a global ambassador, works to improve the quality of life for seriously ill children through entertainment, education and family activities.

"Anything that anyone can do on any level to make the world a little bit better for those in need is tikkun olam (repairing the world), and working with an organization like Starlight lets us see a tangible impact that we make on the lives of others," Wilson said.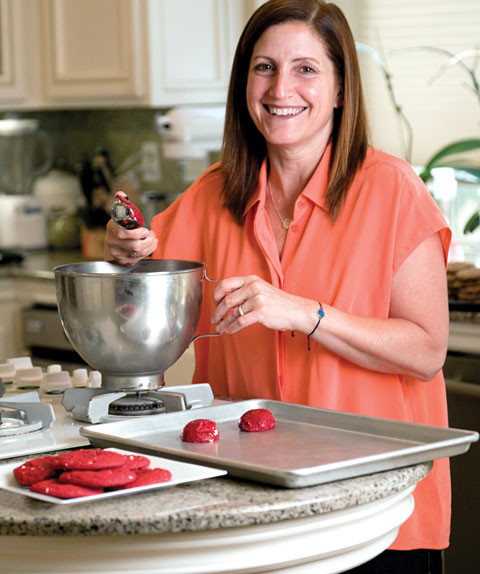 Roberta Koz Wilson making cookies at home. Photo by Joshua Plotke

So far, her company has donated more than $30,000 to the foundation, but that's not all that keeps her going.

"The greatest joy, by far, has been that it has kept me feeling connected to my beloved mom," Wilson said. "I know this was her dream, and I feel like I am helping to fulfill that for her."

Wilson's brother, who is also her best customer, said there is something that sets his mother's cookies above the rest.

"It's like the way someone sings that takes your breath away. It's not definable," Dave Koz said. "When I tasted the cookies, there was a secret ingredient of love — a big, huge helping of it that sets them apart from other cookies."

Hollywood has noticed. The cookies have been featured on the "Rachael Ray Show" and "The Bonnie Hunt Show," and they have been included in gift bags for nominees and presenters at the Academy Awards and at numerous celebrity events.

With efforts to grow the business, Wilson hired a food consultant who shared the cookies at meetings across the country, and, in November, Cookies for a Koz hit the shelves of 375 HomeGoods stores. More recently, they were introduced at T.J. Maxx and Marshalls, resulting in a total of 2,200 stores across the United States and Canada that will sell a dry mix and cookie assortment.

Wilson said this is especially satisfying because Marshalls was her mother's favorite store to shop at for bargains. Now its shelves feature packages with Audrey Koz's photo and story.

"The fact that her cookies are at Marshalls truly gives me the chills," said Wilson, a mother of two teenagers who she hopes will one day run the growing enterprise.

Her brother, who is the owner of Koz Wine, donates proceeds of his sales to the Starlight Children's Foundation as well. Now the two are working to expand their brand as a socially conscious food company known as Koz Kitchen. Once again, their inspiration is their mother, whose kitchen was home to a steady stream of friends, family and love.

"My mom had the ability to make everyone in her presence feel like they were the most important person in the world," Wilson said. "And it was all truly genuine."

The siblings recently paired up on Dave Koz's tour aboard a Royal Caribbean Mediterranean cruise. Wilson was on board to teach cooking school.

"The great irony is that when she started out, she was really lousy," he said of his sister. "Over the years, she has become a really great chef."





AUDREY KOZ'S
CHOCOLATE CHIP
COOKIES

1/3 cup softened butter
1/4 cup canola oil
1/2 cup granulated sugar
1/2 cup brown sugar
1 large egg
1/2 teaspoon vanilla
1 1/2 tablespoons
Frangelico
(hazelnut liqueur)
1 1/2 cups flour
1/2 teaspoon baking soda
1 1/2 cups chocolate chips
1/2 to 1 cup whole pecans
or 1/2 cup walnuts
1.4 ounce Heath bar,
chopped into small pieces

Cream together butter, oil, sugars and egg until creamy. Stir in vanilla and Frangelico. Combine flour and baking soda; add to sugar mixture. Stir in chocolate chips, nuts and Heath bar pieces. Drop batter by the teaspoonful onto ungreased cookie sheets, leaving about 2 inches of space between cookies. Bake in preheated 350 F oven for about 17 minutes. Cool and remove from cookie sheets.

Makes about 25 to 30 cookies.